Here's Where Debt Free 4 Life™ Really Shines!
Debt Free 4 Life™ is a modified snowball. The big difference is where those "extra" payments go.
Instead of attacking your smallest debt, your extra funds instead go into a special compound interest account (let's call this the Debt Free 4 Life™ account). So instead of paying interest, you're collecting it!
Then, when you have enough funds (with some additional savings built-in), you pay off that smallest debt in full.
Now, the minimum payments you were making towards that debt also go into your Debt Free 4 Life™ account, increasing your wealth faster.
Then, when it's time to pay off the next debt, you can clear it in full out of the Debt Free 4 Life™ account (without completely draining your account!)

Debt Free 4 Life™ helps you (or your clients) pay off debt nearly as fast as the debt snowball, but at the end, you're not sitting on zero dollars in your bank account. You've got a savings account with tens (or even hundreds) of thousands of dollars in it.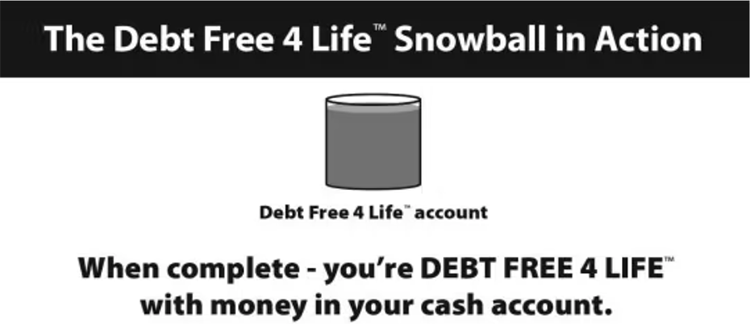 Now, you never need to take a loan for any big purchase ever again. Instead, you simply borrow from yourself.
With no more debt obligations, you are free and wealthy!
Let's see how this works in practice, with a real-life case study:
Names and images are changed to protect their privacy, but Scott and Erin are real Debt Free 4 Life™ clients.
Scott and Erin came to us with over $320,000 worth of debt.
At the rate Scott and Erin were going, it would have taken them nearly 18 years to clear out that debt. And at the end of it, they'd likely have zero dollars left in the bank.
No more debt, but no savings either.
They were paying over $3,500 a month, and because they had a "good interest rate", they were confused why they couldn't make a dent in what they owed.
The reason these giant monthly payments had such low impact was because of their effective interest cost:
Even though Scott and Erin were paying an average interest rate of just over 3%, we explained that their effective interest cost was actually more than 25%.
Meaning for every one of their $3,500 monthly payments, Scott and Erin were paying $907 in interest!
Remember: money lost to interest is money lost forever.
Once Scott and Erin got over the shock of how much money they were throwing down the drain, we showed them the real numbers:
How much faster they could pay off their debt with Debt Free 4 Life™...
With Debt Free 4 Life™, Scott and Erin will be debt free in just over 6 years...and more importantly, they'll be debt free over 11 years sooner than if they'd just stayed the course!
They'll save $49,650 in future interest by paying off their debt so much faster.
And the most important thing...
At The End Of Their Debt Free 4 Life™ Program,
Scott And Erin Will Have

$227,000 Saved In A Tax-Free Account!
Which means Scott and Erin will never have to go into debt ever again! Any big purchase from now on will be financed by them, NOT by a predatory lender.
And with these numbers, the commission would be $13,500 upfront with $1,800 a year on renewal for the next 10 years!
Meaning you'd pocket a total of $31,500 while permanently changing these peoples' lives!
This is a win-win for you and your client!